GDPR Cookie Consent
Cookies and privacy have an interconnection that mostly came to light after laws like the ePrivacy Directive and General Data Protection Regulation (GDPR) were enforced. The need for consent for using cookie was not explored much since not many were aware of the intrusive nature of website cookies.
The GDPR's mandatory requirement for consent for collecting and processing personal data affected cookies usage heavily, even though cookies are only mentioned once in the 88-page GDPR document. Let us look at what GDPR cookie consent is all about and what it entails.
What is GDPR cookie consent?
Europe's General Data Protection Regulation (GDPR) makes it mandatory for websites to get consent from users to store cookies on their browsers. If you have a website that uses cookies to collect and uses the personal data of EU users, you need cookie consent to use cookies.
GDPR cookie consent is the valid user consent obtained or necessary for storing non-essential cookies (that collect personal data and identify or track users) on browsers. Valid consent must be freely given, informed, specific and unambiguous.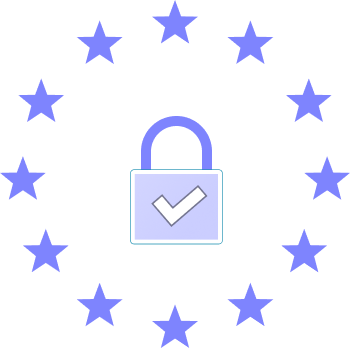 Are cookies personal data under GDPR?
GDPR categorizes any information as personal data if it is used to identify a person. Since some cookies collect personal data or track users which will leave traces of data that may be used to identify a person, those can be considered as personal data under GDPR.
What kind of cookies need consent?
Cookies that collect personal data or track users online for analytics or advertisements need consent to be stored on user devices. These cookies are not necessary for a website to function and blocking them will not cause any disruption to the main services of the site. These are often third-party cookies, i.e. set by a third-party website, and are most often used for cross-website tracking, advertisements, analytics, etc.
E.g. Ad banners you see on websites related to your search history on another website are because of cookies. Such cookies need prior consent and loading them before receiving the consent is a violation
.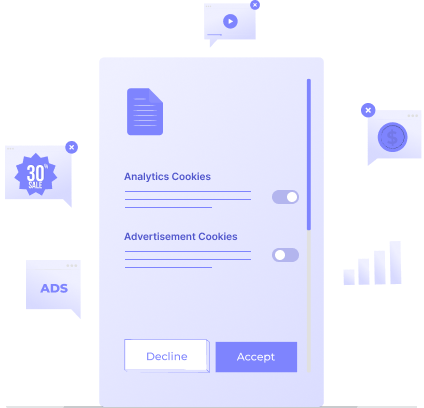 Is your website compliant with GDPR and CCPA?
Scan your website for cookies and find out.
* No email required.
Do I need cookie consent?
If your website uses cookies to collect the personal data of users and offer services and goods to people in the EU, you certainly require to get consent from them.
Strictly necessary cookies, i.e. cookies that do not track or collect personal data and are necessary for your website to function, are exempted from requiring consent.
How to comply with GDPR cookie consent?
To comply with GDPR cookie consent requirements, you need to first identify all the cookies used by your website and then assess their technical properties or types, as discussed earlier.
In case your website only uses necessary cookies, you may not need to obtain consent, but just inform them about it.
Requirements for a valid GDPR cookie consent are:
Do not load cookies before obtaining valid consent.
Freely given, without any terms and conditions or under compulsion.
Informed, i.e. provide necessary details about cookies and their purpose so that users can take an informed decision.
Specific to each cookie type and selective accept and deny option available rather than bundling consent for all cookie types.
Unambiguous, i.e. the consent is valid if expressed or registered via an explicit method such as clicking a button.
Give users options to deny consent or opt-out of cookies as well.
Do not assume consent if the users do not take any action or continue scrolling through the web page.
Allow users to withdraw their consent at any time.
Link to privacy or cookie policy for further information on your site's data processing practices.
Check out some of the best GDPR cookie consent examples here.
How do I enable GDPR cookie consent on my website?
Setting up GDPR cookie consent requires you to first identify the type of cookies your website uses. If you use non-essential cookies that collect personal data and track users, you must get user consent.
You can set up a consent banner or pop-up on your website to inform about cookies and request consent. The banner, as stated above, must inform users about cookies and their purpose in easy-to-understand language.
Setting up a GDPR-complying cookie consent mechanism is not easy. However, you can automate it using a free consent management platform like CookieYes. CookieYes is a web application for collecting and managing cookie consent on your website. With the application, you can cater to all the requirements of the GDPR for cookies using its host of features.
GDPR cookie consent banner from CookieYes
CookieYes web app is packed with features such as:
Easy integration with WordPress and other major CMS such as Shopify, Wix, Squarespace, etc.
Fully customizable consent banner
Scheduled cookie scanning and auto-categorization of cookies
Auto-blocking of third-party (e.g. Google Analytics, Hotjar, facebook, and Youtube) cookies before consent
Granular consent control to users
Consent revisit widget
Auto-translation of the banner to 30+ languages
Do Not Track browser signal recognition
Consent logging
Geo-targeted banner for EU, UK, and US visitors
Free privacy policy and cookie policy
And much more!
Sign up for free
Explore all these amazing features to make your website GDPR compliant for cookies.
*Free 14-day trial. Cancel anytime