Big Tech companies, marketers, and web admins have been inserting encrypted text files into our web browsers for years to track our online activities and target us with relevant ads. These trackers – called cookies – are also often planted onto smartphones and mobile apps and are highly effective in following consumers around various websites.
Those who gather information in this way will rush to pacify users by assuring them that the data they collect is in safe hands and used only for the purpose of improving their services, UX, and so forth. The obvious downside is that the information gathered is hardly anonymous and exposes people to potential data breaches and identity theft. Growing privacy concerns have even prompted Google to announce plans to remove third-party cookies from its browser. That's why it's essential to understand how cookies are used and what you can do to shield your privacy.
Internet cookies are small text files that store information about your browsing history and preferences. Many businesses, small and big alike, use this information to improve user experience by providing a more streamlined browsing data flow and personalized advertisements. Specifically, cookies help users of the internet by allowing them to stay signed in on websites and by giving them pertinent local information.
Internet users encounter two types of cookies: first-party and third-party cookies.
The sites you visit make and use first-party cookies shown in the address bar. They can customize and improve the overall browsing experience. These cookies collect your browsing habits and info about the hardware components you use. For example, the sites you visit once will remember your login details and other preferences making your browsing experience faster and smoother the next time you visit, thanks to those stored cookies. They do pose some minor privacy risks but don't transfer malware or affect your device.
Third-party cookies, however, don't limit themselves to collecting data for one website. They cross-site track, gathering what you listen to, buy, watch, or browse across several websites. These cookies pose a security risk by following you around whenever you go online. These are the kinds of cookies Google plans to eliminate.
If not managed properly, cookies can pose a security risk. Cookies are not viruses, though; they do not contain executable code.
However, they can collect and transfer sensitive data such as Social Security numbers, account numbers, passwords, and more. cookies are widely regarded as security threats and in some cases are even equated to spyware. Anti-malware apps may detect some cookies as low-risk threats and automatically remove them following a full system scan.
Cookies and mobile phone networks
Public Wi-Fi networks are a bad choice for accessing sensitive information because connecting through an unprotected connection leaves your device open to attack by hackers. Mobile networks are a significantly better solution for protecting private data, and it's harder to hack into a mobile network than it is to steal sensitive data from a public Wi-Fi network.
However, cookies on mobile phones pose a greater security risk than they do on computers and laptops because most people don't install anti-malware programs on their smartphones.
On the other hand, unlike desktop online browsing, cookies from a mobile app rarely track you while using other apps.
Get a responsive cookie banner for your website
Easy to install and responsive across all browsers, CookieYes' cookie banner provides a seamless experience on all devices.
FREE COOKIE BANNER
*Free forever *Easy setup *No credit card required
There are several instances where cookies can do more harm than good on your smartphone:
Decreased browser performance: Cookies are constantly being archived on your phone and can impact the performance of mobile browsers. Cookies are small files, but if your phone doesn't have a lot of RAM space, cookies can also slow down the browser.
Cookies from unencrypted sites: Unencrypted sites have no security in place to shield your personal data. These sites are low-hanging fruit for hackers to hack into cookies from your browser and gain access to crucial data such as bank accounts and credit card numbers. An unencrypted site is easy to recognize: it has an unlocked padlock icon next to the site address or an HTTP URL instead of HTTPS.
Third-party cookies: Cross-site tracking using cookies by third-party domains can affect user privacy and result in the selling of their data, which may include sensitive data, to such parties.
Flagged cookies: You should consider removing cookies that end up flagged or marked as a risk by antivirus and anti-malware apps.
Using sensitive information: Cookies used by websites or services that require users to share sensitive data can be risky since the cookies are vulnerable. If the cookies are not cleared after use, there is no guarantee that the website is protected from hacking and breaching.
How to improve mobile phone security against cookies?
There are a few things you can do to help improve security on your mobile phone:
Use trusted websites and avoid public Wi-Fi when possible.
Manage your cookies regularly and delete cookies that are no longer needed. Use anti-malware apps that do this automatically.
Keep your mobile phone up to date with the latest security features and updates to help protect your information.
You can find a couple of internet browsers, extensions, and sites focused on preserving user anonymity. They won't necessarily stop cookies from piling up on your phone, but they do provide you with adequate tools to deal with them.
Startpage.com
The Dutch search engine, Startpage uses Google results but without employing tracking software, including cookies. It doesn't collect IP addresses from its users and operates under a no-logs policy. For its strong privacy policies, Startpage.com got the Dutch Privacy Award in 2019 and a recommendation from the European Privacy Seal.
It works by relying on Google's search engine to show the most relevant results to its users but does not use any tracking technologies. On top of this, the Anonymous View feature allows you to check sites via a proxy. You can access any search result without the site learning about your ISP, location, used browser and network, or hardware.
Since Startpage.com is subject to strict Dutch and EU privacy laws, such as GDPR, the company is exempt from the US surveillance programs such as PRISM. However, since it's located in the Netherlands, it's still under the jurisdiction of the Nine Eyes intelligence-sharing alliance.
But how does Startpage make money? The search engine's leading source of funding is contextual ads displayed along with search results. As long as you do not click on the ads, your privacy will remain intact.
DuckDuckGo
Coming from Pennsylvania, DuckDuckGo is a search engine and web browser app that primarily uses Microsoft's Bing engine to display query results and ads to generate revenue. It also uses 400 other search engines, such as Yahoo! and Yandex, in addition to its own crawler for indexing pages.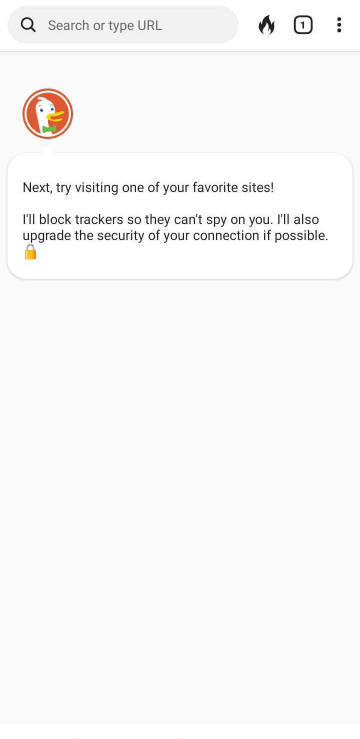 DuckDuckGo doesn't track you or collect user data, so your searches remain anonymous. The tradeoff is that, unlike Google, DuckDuckGo is more privacy-friendly and does not personalize results, suggest search options, or provide other accessibility tools.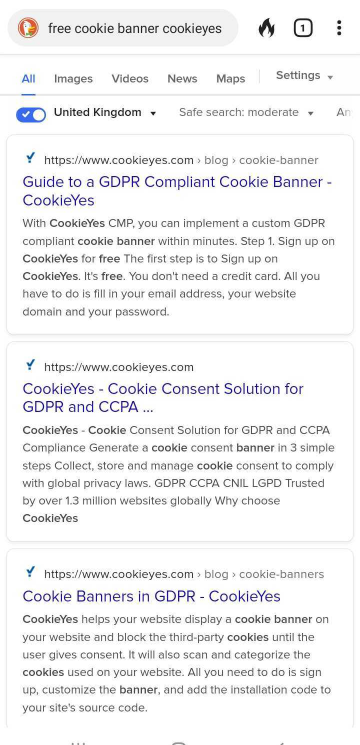 Its app has a few additional privacy features, like app tracking and email protection that remove hidden third-party trackers. The DuckDuckGo web browser app is available for iOS and Android.
Ghostery
Ghostery is a cybersecurity company that offers privacy-focused internet tools, including a safe mobile browser app and a private search engine. The primary purpose of its software solutions is to search for, block, and redirect JavaScript trackers. It prevents HTTP requests and third-party trackers.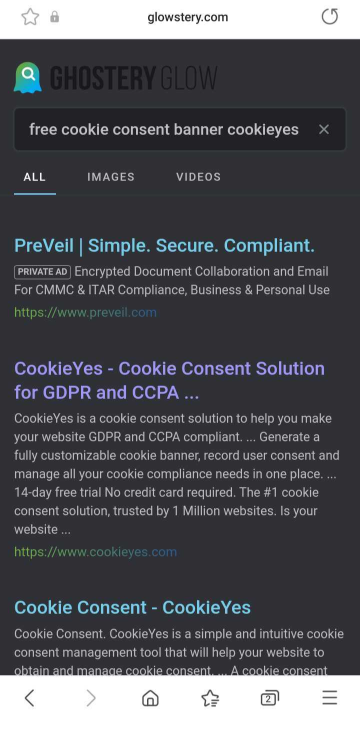 The company's mobile browser extension is available for Chrome, Opera, Firefox, Edge, Yandex, Safari, and Internet Explorer. The extension is equipped with AI anti-tracking technology that successfully blocks ads and trackers.
Ghostery Glow is the company's private search engine, while Ghostery Dawn is its open-source web browser that anonymizes your data for extra privacy and blocks ads to facilitate faster page loading times.
While the browser extension won't cost you a dime, access to the full suite of Ghostery tools requires a paid subscription.
How to clear cookies on a mobile phone?
Let's now move on to how you can keep your mobile phone free from cookies, regardless of your device's operating system. In this section, we'll focus on clearing cookies on all widely used mobile browsers.
Clear cookies in Chrome
To begin clearing cookies from Chrome on iPhones:
Tap the Chrome icon to open it.
Click the three dots in the top-right corner to access the Settings menu.
Go to Privacy and choose "Clear browsing data."
Check "Cookies and site data."
Tap Clear Browsing Data and then Clear Browsing Data.
Tap Done.
To clear cookies on an Android phone:
Open the Chrome app and tap the three dots in the top-right corner.
Select History.
Select Clear browsing data.
Ensure Cookies and site data are checked and uncheck other options.
Tap Clear data and confirm by tapping Clear to delete cookies.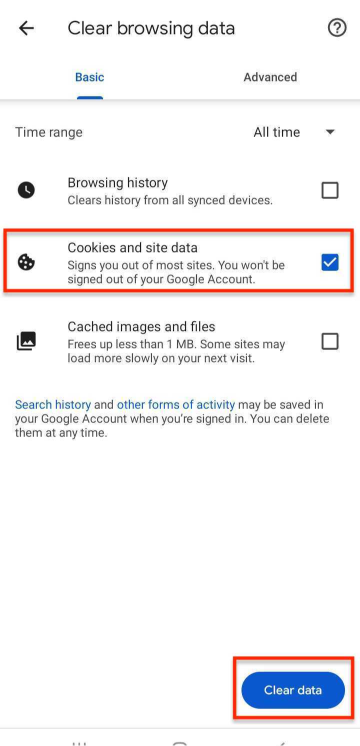 Clear cookies in Safari
Safari is one of the most commonly used browsers on iOS devices. To start deleting cookies:
go to Settings and press Safari.
Tap Advanced > Website Data
Tap Remove All Website Data > Remove Now to clear cookies.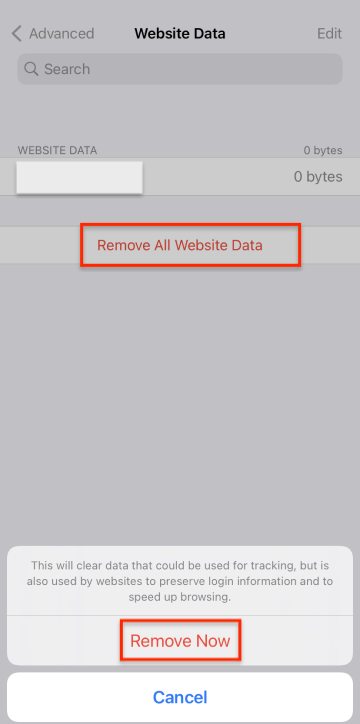 Clear cookies in Firefox
Mozilla Firefox is more security-oriented than other browsers and features extensive security options. When you fire up the Firefox browser on iOS phones
Tap the menu in the bottom-right corner.
Select Settings.
Tap Data Management.
Select Cookies
Tap Clear Private Data.
Select OK to clear cookies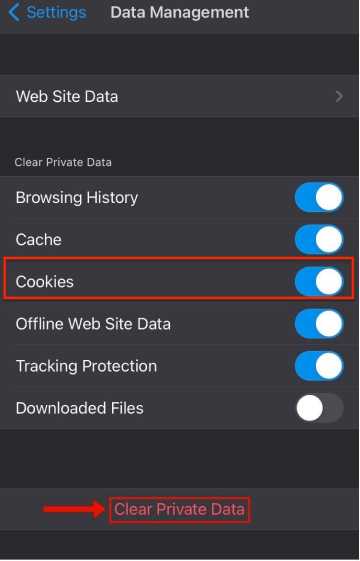 Firefox options on Android phones are slightly different. To delete cookies:
Tap three dots in the bottom-right corner.
Tap Settings to find the Delete Browsing Data tab.
Check Cookies and tap Delete browsing data.
Select Delete to delete cookies.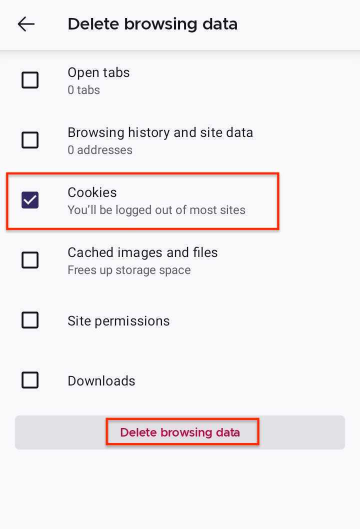 Clear cookies in Opera
Opera is hardly among the most popular mobile browsers. However, it has a loyal customer base, partly thanks to the free VPN that's part of the package. The process of getting rid of cookies in your Opera browser is the same on both iOS and Android smartphones.
Tap the profile icon in the bottom-right corner.
Select the settings icon and scroll down to select Privacy.
Tap Clear data.
Check Cookies and site data
Select CLEAR DATA in the bottom-right corner to clear cookies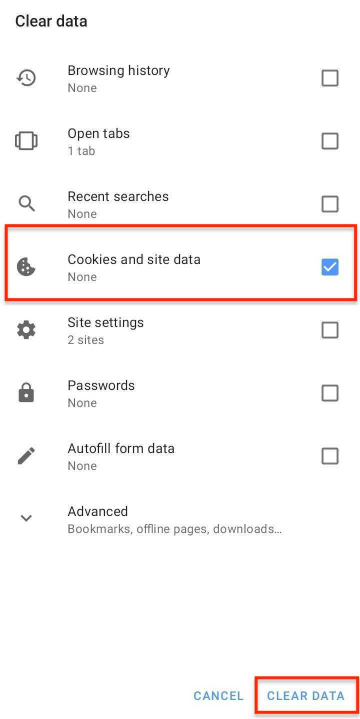 Conclusion
While cookies are a necessary part of the modern web browsing experience, it's vital to be aware of the risks associated with these pieces of code. By taking steps to address the vulnerabilities linked to cookies when using your mobile devices, you can help protect yourself from identity theft and other security threats.
Frequently asked questions
Should I delete cookies on my phone?
Deleting cookies from your phone depends on whether you trust cookies from websites you have visited. Some of the advantages of deleting cookies from your phone are:
More storage space
Improved browsing speed
Protects your online privacy
Improves mobile phone security
What does a cookie on a phone mean?
Cookies on phones are the same as the ones used in computers. They are small text files used by a website that is stored on the user's browser file. They are used to recognize users and their preferences on subsequent visits for tracking their movement across other websites.
Do I want cookies on or off?
Wanting cookies on or off is a personal preference. If you care about your mobile phone's security and think that tracking cookies will affect it, then you should turn them off.
To block cookies on iOS:
Go to Settings
Tap the Safari application
Turn on Block All Cookies
Then tap the Block All option
To block cookies in Chrome on Android:
Open Chrome and tap the top-right corner to open the menu
Select Settings > Site Settings
Tap Cookies
Turn on the appropriate option (Block third-party cookies or Block all cookies)
Author bio: Ivana Vojinovic is Editor-in-chief at DataProt. Her extensive work with EU GDPR documentation made her realize the importance of proper online data collection, storage, and handling. This, in turn, led to the creation of DataProt, a website dedicated to sharing knowledge and insights about cybersecurity and online protection.